Justin James is a Canadian-born singer songwriter from Vancouver, Canada. He grew up singing in the British Colombia Boys Choir and was an avid cello player at the Vancouver Academy of Music. A professional windsurfer in his teen years, Justin was attacked by a tiger shark off the coast of South America when he was 20 years old, cutting major arteries, almost severing his foot, and leaving him with 250 stitches. This moment would prove to be a watershed in Justin's life when during a year-long recovery his grandma gave him a guitar and his first song was born.

Justin's debut full-length studio album "Sun Drenched" was released via 10 Spot/Universal in 2007. Produced by Juno winner Tim Feehan the lead single "California" was featured in MTV's "Laguna Beach" and "The Hills." Other songs off the album gained recognition from placements on network shows including ABC's "What About Brian", CBS' "Ghost Whisperer", USA's "The Starter Wife", and NBC's "Las Vegas". His song "Love Me More" was used in the highly successful Korean TV drama "Iris".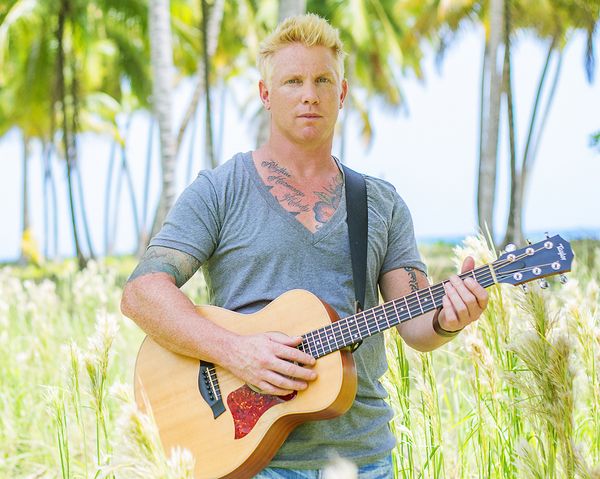 Justin's second full-length studio album "Perfect Sometimes" was released via Gold Sky Records in 2009. Sony International picked up "Perfect Sometimes" for release in Japan and the title track, which features Hawaiian ukulele player Jake Shimabukuro, peaked in the top 10 on the Hawaiian charts in the summer of 2010. Songs from this album have been licensed by numerous corporations including Hollister, McDonald's, Delta Airlines, Adrianna Papel, and Arhaus Furniture.

"A Beautiful Life", Justin's third full-length studio album, was released via Gold Sky Records in late 2011. The title track was honored by American Bride as the "Wedding Song of the Year" and was also recently licensed for use in a Susan G. Komen fundraising campaign video. A Beautiful Life has now been featured in countless weddings all across the world.

Since 2009 Justin has performed over 700 shows and toured in the USA, Japan, Switzerland, France, Belgium, Germany, Holland, U.K., Czech Republic, India, Canada, Costa Rica, and the Caribbean, and has performed with many high profile artists including Jason Mraz, Colbie Caillat, Howie Day and Switchfoot.

In support of his latest album "Islands", James embarked on a international tour with dozens of stops including Vancouver, San Diego, Miami, Tallahassee, New Orleans, San Antonio, Austin, Dallas, Albuquerque, Minneapolis, Chicago, Cleveland, Boston, St. Moritz (Switzerland), Bremen (Germany), Cologne (Germany), UK and The Netherlands.
"Islands" was released on August 13, 2013.  Produced by Andrew Williams and mixed by Mikal Blue.You can find Justin on iTunes, Pandora, Spotify, SiriusXM, and just about anywhere else music is available.

Justin is endorsed by Taylor Guitars, D'Addario Strings, Fishman, Nalu Ukulele, and Analysis Plus, and has been honored previously with a best male vocalist and hot adult contemporary single nod at the Los Angeles Music Awards and Best Pop Album at the San Diego Music Awards.